Memory and smell of Akasaka of tradition and culture Akasaka of land
Akasaka guardian of forest Edo seven Hikawa largest Akasaka Hikawa Shrine
Patron god sama Akasaka-kko
"Amulet", "good match-marriage", "my wife safety", "business prosperity"
According to the old document, it is the beginning that was enshrined in the old Lu Ko~keoka of Hitotsugi plateau in 951 years Murakami Emperor of age (Akasaka Fudoson sides). It was Sengu 8 shogun Yoshimune public by erecting the current shrine to the current location, it was an own Ubusunagami. Thereafter, received a red seal-like former generals, as the guardian-like Akasaka area, is patron god-like Akasaka that have attracted the veneration of Akasaka-kko.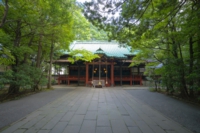 The vast grounds treasure to tell the history a lot.
(From left)
● Yoshitoshi brush of "" or set of "firefighter ema" with 6 points in the Gaku-do and Emma.
● your shrine of ceiling paintings stunning capital handy buildings.
● Big Tree of natural monument of large ginkgo old 400 years
● Kishu house Yaguradaiko has been hit rung every morning even now
● existing Edo type floats
Edo type floats are many lost, now, just rest in Tokyo. It is not a complete form in the Hikawa Shrine Akasaka, but we have existing nine.
Are long-term repair the Akasaka of property transferred from the Edo era, once again, with the aim of reconstruction of floats cruise at festival of Hikawa Shrine Akasaka, and strives to be established and we want the Akasaka Hikawa floats Preservation Society tell posterity reconstruction .
Stylish black fence Edo Sumi
Kyoto five colors (Nishiki), Osaka of San Cai, Edo Sumi
Today brilliant brocade. Good sense that summarized elegant while using the five colors of black-and-white green yellow red.
Osaka is derived from the San Cai Tsukai seen in Tang San Cai and Oribe ware, effectively use the three colors, vivid dress.
Edo Sumi and forty-eight tea hundred rats
Gloom is the best in the Edo, I was good a monotone that you made to the gradation of gray to brown and navy blue leading to white. That forty-eight tea hundred rat. Just, gray of hundred colors leading to white from brown and black forty-eight colors like a feather sparrow what, seems to Edo aesthetics. If you look at the former Japanese house, the roof is black in 甎, board fences in brown, beige tatami. Since shoji and sliding door is white, residence also town also had been constructed in forty-eight tea hundred rat. Is design to remind the streets of former black fence can be seen here and there in Akasaka.